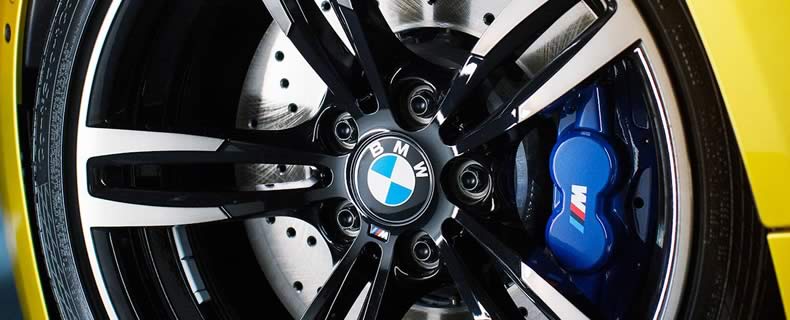 Upgrading BMW Brakes
There is a lot of confusion amongst owners as to how good the brakes are on their performance BMWs and whether or not they should upgrade them.
For Z4M, M3, M3 CSL and V10 M5/M6 owners the standard brakes are really not as bad as many people make out. The issue with the BMW systemis that it uses a single pot caliper with a swinging design.
The pad and piston area is actually fairly large, and in most cases the disc diameter is also large. Where the factory braking system usually
fails down is initially in the choice of pad material. BMW use pads with excellent cold bite to work under all conditions on the road, but which then are not very resistant to fade. Given that most BMWs are in excess of 1300kgs in weight and qualify as heavy cars, the pads are not really up to anything more than normal day-to-day driving. The brake hoses and fluid are also not up to the job of spirited driving, and definitely not capable of more than one or two laps on a trackday. The discs
on the M power cars are usually good with later models having fully floating discs for better heat management.

The downside is that the discs often have cast holes which is good for water dispersalbut increases the likelihood of cracking under extreme road or trackday driving conditions. The BMW discs are also generally quite thin in comparison to aftermarket items, further decreasing their
ability to deal with heat. This is generally only a problem for drivers who are going to do trackdays as it is not likely that spirited road use will result in cracked or warped discs.

Track use will require better heat management, which will mean either thicker discs with separate bells, or a cooling arrangement with air ducted to the disc.

Non-M cars tend to have cast bells, and often small single piece discs with quite small calipers.

Drivers of 3.0 Z4s and E46 330i cars are really short-changed in the braking department especially if they are going to do trackdays.
So on the one hand we have the cheaper conversion of uprated pads, such as Performance Friction or Ferodo DS2500 which will improve everyday road use in conjunction with uprated hoses and fluid.

For trackday use, more aggressive pads are required, such as Pagid RS29 to withstand the high temperatures that will be reached by the pads and discs on track. This is where the BMW single piston caliper design starts to fall apart, and you discover why BMW fit soft pads in the first place – the reason is that the swinging caliper is not very rigid or progressive in nature, meaning that there is no finesse in the braking.

Outright stopping power with a track pad such as the Pagid is excellent,
almost as good as an AP kit, but there is no finesse. You are either flat-out braking or not braking at all. Techniques such as trail-braking into corners are impossible. The aggressive pad solution is ideal if all you are going to do is 1 or 2 trackdays a year. If you want to do regular spirited road driving and trackdays, then you really should opt for an
aftermarket kit. AP Racing kits are our preferred choice, and we run these on all our cars.

The AP calipers use a conventional piston design, 6 pistons at the front and 4 at the rear. The discs are far superior to the OEM ones in that they are 4mm thicker at least, and instead of cast holes they feature
vented vanes and grooves. They are much more resilient to heat, run much cooler and last far longer given that they are less likely to crack. The caliper, disc and bell is a much lighter combination, with
a combined weight-saving over 4 wheels of up to 20kgs on a BMW. You can choose with the AP kit whether to have a solid or floating disc for better heat management, though it is not essential unless you have a very heavy car (M5s for example). There is a much better selection of pads in nearly every compound and the braking is extremely progressive translating into much quicker lap times overall.

Discs and pads last much longer too, so the more trackdays you do then the quicker the kit
will pay for itself! One final point is that many owners only upgrade the front brakes to APs, as it is not viewed essential to upgrade the back. Whilst it is true that the front of the car takes the majority of the
braking effort, by only upgrading the front you will alter the brake balance of the car, and are likely to have more front lockups, resulting in the ABS system being on more often than it used to be. If you do not want to buy a rear kit, then you must at least upgrade the rear pads to a more aggressive material to maintain the front-rear balance. Equally, on most BMWs you will find that the AP 4 pot caliper is a little large for the rear, and that a softer pad will generally work better in the rear with the APs.

We like to use RS29s all round on track, but run either a Pagid RS42 at the rear or a Ferodo DS2500 on the road.