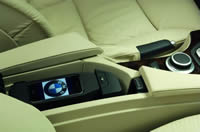 BMW specialists Mississauga is pleased to announce that owners of many current BMW models will be able to enjoy integration of their new Apple iPhones™ in their vehicles from day one. In 2004, BMW was the first vehicle manufacturer to integrate the Apple iPod® into BMW vehicles and have customers take full control of their music on the road. So it seemed only logical that BMW be among the first vehicle manufacturers to ensure that owners of the new iPhone have the same ability to enjoy their music, plus the added benefits of Bluetooth® handsfree calling.

The iPhone will work as a Bluetooth-enabled cellphone on most BMW Assist-equipped models with Bluetooth handsfree-calling produced October 2004 or later (7 Series as of March 2005 production).Many seen in Mississauga. Bluetooth technology provides a wireless connection between a compatible cell phone and the vehicle for hands-free calling. With a compatible Bluetooth cell phone, drivers can place and answer calls and select numbers from the address book by simply using the multi-function steering wheel or dashboard controls, or on some models, voice activation via Voice Command.

Access to the iPod application of the iPhone via the in-vehicle controls and central information or radio display will be possible on models equipped with the optional iPod/USB Interface. This factory option is currently available on BMW 3 and 5 Series models including M5 (as of March 2007 production) and the BMW X5 (as of April 2007 production). The iPod/USB Interface will be available on 6 Series models, including M6, beginning with September 2007 production.

The iPod/USB Interface option utilizes an adapter cable to provide full integration and functionality of an iPod or the iPhone's music player application. The cable has an iPod docking connector on one end and separate cables on the other end for connection to the in-vehicle AUX IN jack and USB connector. Full iPod menu functionality is available in the Control Display monitor or radio display on non-iDrive models.